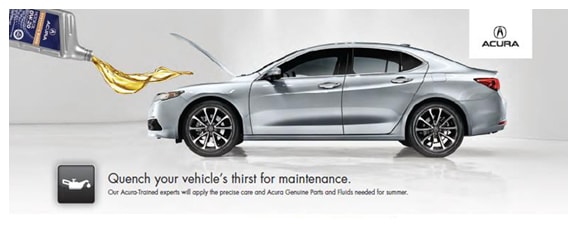 Service for Your Acura at Acura of Sherman Oaks in Sherman Oaks
Proper maintenance and repairs on your Acura is what will keep it running for many years into the future. If you've taken the time to research different Acura models, obtain financing and make monthly payments, then you owe it to yourself to stick to a service schedule at Acura of Sherman Oaks near Santa Monica.
If you aren't sure what your vehicle needs routinely, our expertly trained service technicians can get you on the right path. Some maintenance items are simple, such as oil changes, while other service appointments are more involved, but they are very important to determine what kind of condition your vehicle is in. For example, an annual inspection will take place once per year. This is an important process that can spot a lot of undiagnosed issues.
Routine Oil Changes for Your Acura near Culver City
The frequency at which you get your Acura's oil changed really depends on how often you're driving it. The mileage that you accumulate is also a factor. If you're someone that only drives your vehicle a couple hundred miles per month, then you're considered a low-mileage driver. You may be able to go longer between oil changes than someone who drives many miles each month. The kind of oil and filter that you choose for this process also factors into the frequency. Lower quality oils will typically need to be removed and replaced in a shorter amount of time. If you invest in a high-quality synthetic oil, you'll be able to sometimes go as long as a year in between oil changes.
Annual Inspections
Our technicians will look over your Acura to see if everything is working properly. If it's not, then we have the opportunity to repair some problems before they turn into an expensive and burdensome repair. Even if nothing is broken or in need of maintenance, we can often let you know when there is something that you need to budget for in the future. For example, we can tell you if you're going to need a new set of tires in the next few months. This will give you time to plan financially.
Tire Service and Rotations
Servicing your tires allows you to ensure that you have a safe grip on the road that you're driving on. If your tires are too low or too high when it comes to air pressure, this can put at risk of experiencing a blowout or flat tire. We'll check the pressure in your tires, but we'll also inspect your tire pressure monitoring system to make sure that it's working properly. We can also inspect the tread of your tires. We'll look to see if you have enough tread on your tires to grip the road, but we'll also inspect them to see if the tread on them is wearing down at an even rate. If not, this could signal that something major is going on with your suspension or the alignment of your tires. We can quickly perform an alignment if needed, which is really important for how your vehicle is functioning.
Of course, we specialize in Acura service and can take care of many more maintenance needs than what we've already mentioned. If you would like to talk to one of our team members about the different maintenance tasks that we can perform on your Acura in Sherman Oaks, give us a call when you have a minute to chat. We also encourage you to stop by the dealership anytime that you're in the Santa Monica area. We look forward to helping you with all of your automotive needs.
Service Department Hours
Monday

8:00AM-5:00PM

Tuesday

8:00AM-5:00PM

Wednesday

8:00AM-5:00PM

Thursday

8:00AM-5:00PM

Friday

8:00AM-5:00PM

Saturday

8:00AM-5:00PM

Sunday

Closed